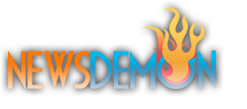 Europe's Premium Usenet provider
Server Status
This page is updated every time Newsdemon experiences an interruption in service. We cover news server outages, newsgroup retention issues, 256-Bit SSL Encryption issues, changes in nntp server addresses, and general usenet speed issues on this page. If you have an issue with your service, please check this page before contacting Newsdemon support.

You can also check out some of the below pages for more information regarding the Newsdemon.com Usenet Access service.

Newsdemon Blog - For Newsdemon.com Announcements and general Usenet information

Newdemon Ports - This page references the ports that correspond with your Newsdemon.com Usenet access account

Newsreader Guide - A guide of available newsreaders with available tutorials

06/17/2015

10:08 AM EST Nameservers have been changed. Some ISPs take longer than others to update, so if you are still experiencing an outage, please be patient. If it persists, contact support.

06/16/2015

06:27 AM EST Expect some outages this afternoon as we are transitioning servers. Everything should correct itself shortly.

02/19/2012

05:02 AM EST The fiber cut between our Amsterdam server farm and the U.K. has been repaired and our customers should begin seeing speed levels returning to normal. To clarify, on February 8th, there was a submarine fiber cut between London and Amsterdam. The upstream provider dispatched a ship to the cut, about 80km from the site. Weather delayed the ship from completing the sub-sea repairs but all repairs have now been completed. Our London area users would have experienced some decreased speed during this repair period. We apologize for any inconvenience.

01/07/2021

11:22 AM EST We had an issue with an trans-Atlantic connection between our two server locations that may have caused some issues for some users. This issue took some time to diagnose but should be resolved now. We apologize for any inconvenience. Thank you for any members who notified us of the issue!
NewsDemon® is a trademark of K&L Technologies, Inc.
2001 - 2023 © Copyright NewsDemon.com