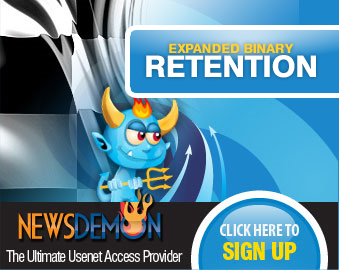 NewsDemon.com is proud to announce new capacity upgrades to cater to 3000 days of binary retention. The retention increases are the result of continuing upgrades NewsDemon.com provides to all of its members.
Since our announcement of reaching to our 3000 day goal, we'd like to take the opportunity to explain what this means for our members.
The retention rate of binaries translates into the longest amount of time an article would be available on any particular newsgroup. We are not expiring text messages and our current text newsgroups retention remains well over three years worth of articles available.
The increase to 3000 days of retention has been a building process to reach to that capacity. Specialized servers had been put in place and set to spool for over a year to reach this new level of capacity. Due to this process, 3000 day old binaries posted on any of our 107,000 supported newsgroups are now available to our members.
The 3000 days of retention is available for all of our NewsDemon.com premium USENET NEWSGROUPS members, including both US and EU customers.
As we continue to provide industry leading access to USENET at affordable and economical prices, the increase in retention will neither affect current pricing or existing plans.
If you have additional questions or inquiries regarding this upgrade, please contact our Support department.