How to Install and Set Up NewsLeecher with your Newsdemon.com Usenet Account
NewsLeecher is a tool made for fetching and managing articles from the Usenet. It downloads Usenet articles in a snap, and uses it's inline engine to assemble and decode all the downloads. The powerful featureset and state-of-the-art user interface makes it an application "you simply can't live without" if you are a serious Usenet user.
Step 1 – Download Newsleecher from here.
Step 2 – Use download of Final Release

Step 3 – "Welcome to Newsleecher Set Up Wizard" screen will appear. Click "Next" to Continue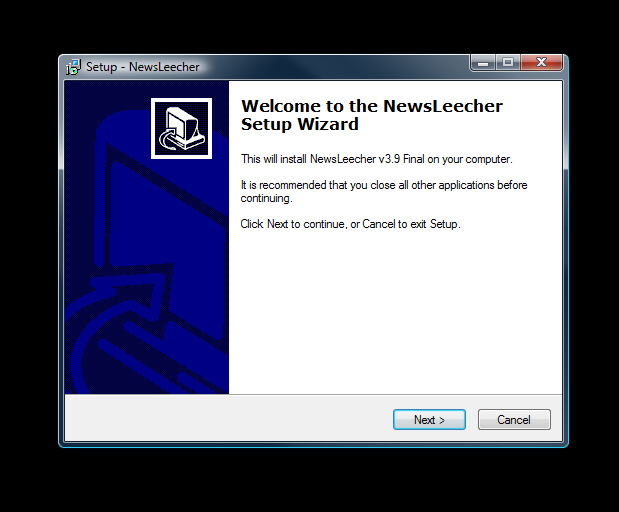 Step 4 – License Agreement screen will appear. Click on the "I Accept this Agreement" checkbox and then "Next" to Continue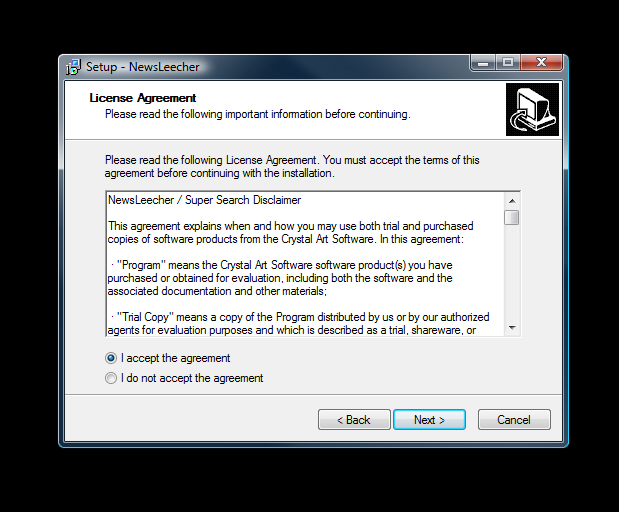 Step 5 – Select Destination Folder screen will appear. If you are not changing the Destination Folder, click "Next" to continue. Note: For Vista Users, the directory will be "Program Files (x86)"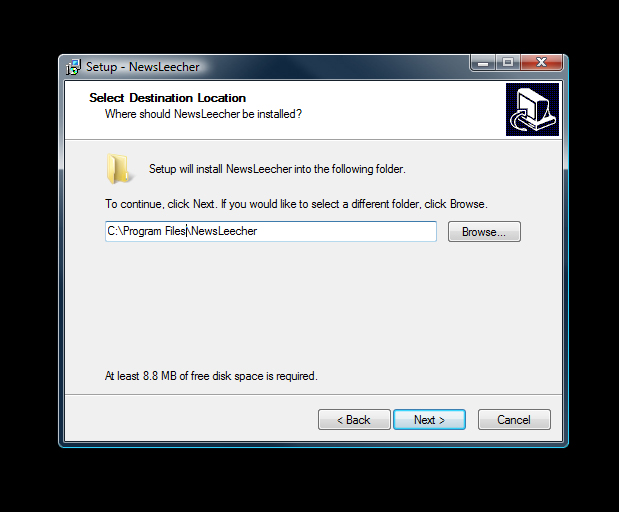 Step 6 – Select Start Menu Folder will appear. The default folder will be "NewsLeecher". Click "Next" to continue.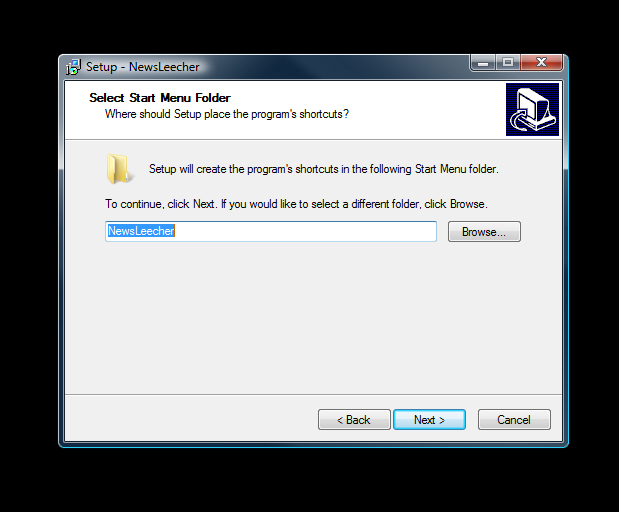 Step 7 – Select Additional Tasks will now appear. The default setting is to create a Desktop Icon and Quick Launch Icon. To keep these default settings, click "Next" to continue. If you do not want these shortcuts, uncheck either or both items now and press "Next" to continue.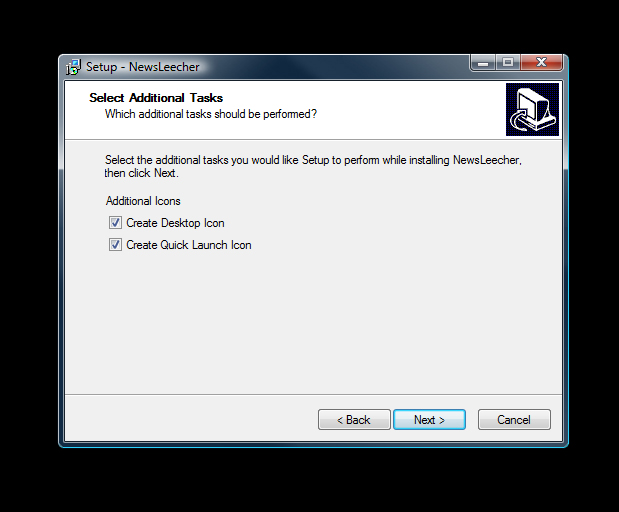 Step 8 – The Ready to Install screen will appear to give you one last opportunity to change folder specifications. If everything is OK, click "Install" to continue.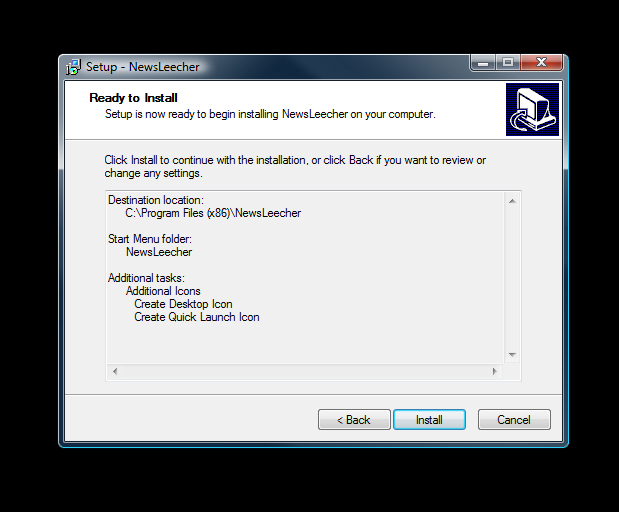 Step 9 – The installation will complete and the Completing Newsleecher Setup Wizard screen will appear. Click "Finish"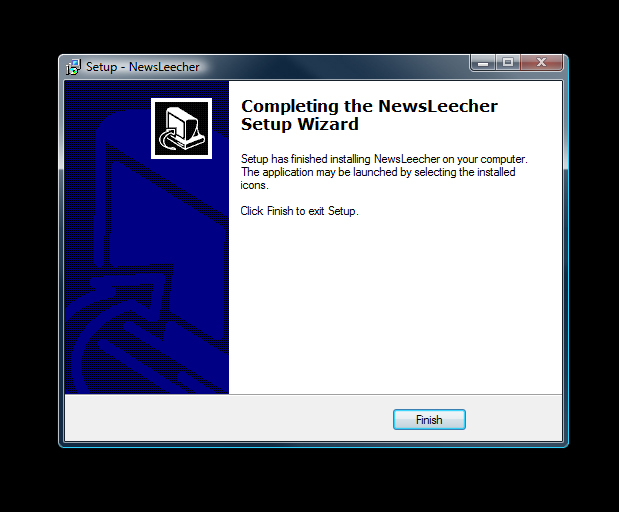 Step 10 – To start program, double click on the "Newsleecher" Icon that was created on your desktop or from your Quick Launch Icon Tray. If you did not choose a shortcut to be installed, Click "Windows Start Button", Click "All Programs" and find "Newsleecher" in your list of programs.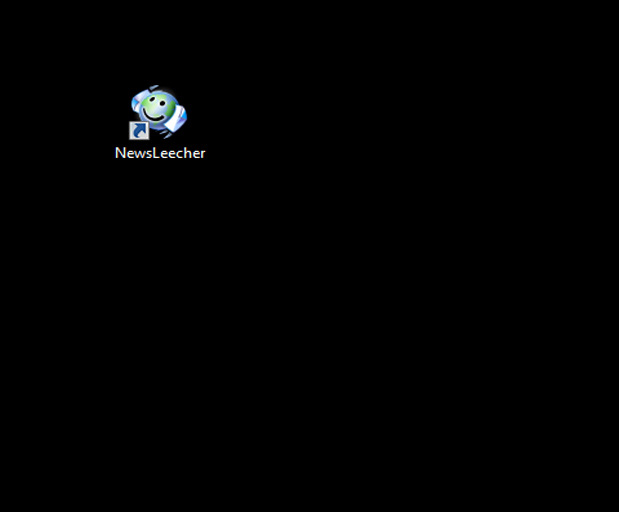 Congratulations! You have installed Newsleecher.
Click here to Configure Newsleecher »